Hollywoodin pedofiiliverkostosta kohistaan jälleen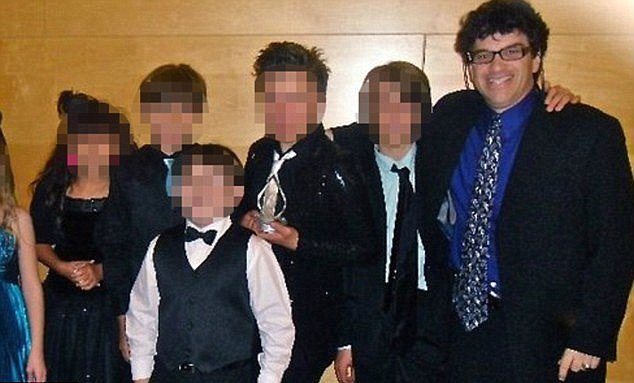 Taru sormusten herrasta –elokuvasarjasta tuttu Elijah Wood on ollut viime päivinä otsikoissa, koska hän puhui avoimesti Hollywoodia hallitsevasta pedofiiliverkostosta.
Woodia haastatellut Oliver Thring julkaisi hiljattain suurta huomiota saaneen artikkelin "Hollywoodin pimeä salaisuus: pedofilia". Thringin ja hänen haastattelemiensa Hollywood-veteraanien mukaan Amerikan viihdeteollisuus suojelee aktiivisesti lastenraiskaajia ja tarjoaa näille töitä myös vankilatuomioiden jälkeen.
Thring kirjoittaa artikkelissaan lukuisista tapausesimerkeistä kuvatessaan, kuinka Hollywoodin pedofiilit ovat yhdistäneet voimansa. Aiheesta tekee poliittisesti erityisen tulenaran se, että valtaosa artikkelissa nimetyistä henkilöistä ovat joko juutalaisia, tunnettuja homoaktivisteja – tai molempia.
Monia Thringin kuvaamia tapauksia on käsitelty jo aiemmin Magneettimedian artikkelissa "Hollywoodia riivaa pedofiiliongelma".
Thring kirjoittaa esimerkiksi Marc Collins-Rectorin pahamaineisista "allasbileistä", joissa rikkaat elokuva-alan homomiehet käyttivät hyväkseen nuoria näyttelijäpoikia. Collins-Rectorin tärkeimpiä rahoittajia olivat Thringin mukaan juutalaistaustainen homoaktivisti David Geffen, homoaktivisti Michael Huffington sekä juutalaistaustainen homoaktivisti Bryan Singer.
Singerin ja Collins-Rectorin pimeistä harrastuksista on kirjoitettu toistuvasti myös valtamediassa, mutta Thringin mukaan he ovat vain jäävuoren huippu. Hollywoodin pedofiileista on ohjattu jopa dokumenttielokuva nimeltä An Open Secret, mutta "yllättäen" Yhdysvaltojen elokuvateollisuus on pyrkinyt sensuroimaan sen.
Thringin mukaan hyväksikäytettyjen lapsinäyttelijöiden omaiset ovat olleet pöyristyneitä Hollywood-mogulien kaksinaismoralismista. Hollywood on markkinoinut suurella innolla esimerkiksi katolilaisyhteisön pedofiilitapauksista kertovaa Spotlight-dokumenttia, mutta samalla se on sensuroinut An Open Secretin.
Hollywoodin kaksinaismoralistinen suhde muistuttaa tapaa, jolla New Yorkin lehdistö on piilotellut juutalaisseurakuntien pedofiliatapauksia katolilaisen yhteisön kustannuksella. Aiheesta on kirjoitettu laajasti suositussa käännösartikkelissamme "Suuri raiskaavien rabbien salailu".
Vankilasta takaisin sorvin ääreen
Thring kirjoittaa, että pedofiiliverkosto ei toimi suinkaan Hollywoodissa ruohonjuuritasolla, vaan lonkerot ulottuvat alan rikkaimpiin ja vaikutusvaltaisimpiin piireihin asti.
Vaikka kaikki verkoston jäsenet eivät ole osallistuneet esimerkiksi Collins-Rectorin "allasbileisiin", ovat he edesauttaneet hyväksikäyttäjiä tarjoamalla näille töitä sekä hiljentämällä näiden uhrit rahalla ja uhkauksilla. Kun pedofiilit on päästetty vapaaksi vankilasta, on heidät päästetty takaisin Hollywoodiin työskentelemään lasten kanssa.
Pedofiilien tunnetuimpiin uhreihin lukeutuu 1980-luvun lapsitähti Corey Feldman, joka näytteli muun muassa elokuvissa Stand by me – Viimeinen kesä sekä The Lost Boys. 2011 Feldman avautui lehdistölle ja totesi, että "Hollywoodin suurin ongelma on aina ollut ja tulee olemaan pedofilia".
Feldman kertoi, että 14-vuotiaana hän oli jo kokonaan ahdistelijoiden "piirittämä"; Hollywood-kihot raiskasivat lapsinäyttelijöitä rutiininomaisesti esimerkiksi elokuvien kuvaustauoilla. Feldmanin tavoin monet uhreista ajautuivat mielenterveysongelmien, alkoholin ja huumeiden kierteeseen traumojensa vuoksi.
Thring haastatteli artikkeliinsa myös Anne Henryä, joka on perustanut lapsinäyttelijöitä suojelevan BizParentz Foundation –järjestön. Henryn mukaan noin 75 % huumekierteeseen ajautuneista entisistä lapsinäyttelijöistä romahti henkisesti juuri seksuaalisen hyväksikäytön vuoksi. Henry arvioi, että "Hollywood suojelee tällä hetkellä noin sataa aktiivista pedofiilia".
Yksi Hollywoodin suojelemista saalistajista on Singerin "allasbileisiin" usein osallistunut Brian Peck. 2004 Peck sai tuomion hyväksikäytettyään Nickelodeon-viihdeyhtiön nuorta näyttelijää. Nickelodeon on osa juutalaisen Sumner Redstonen (Rothstein) Viacom-mediaimperiumia. Vankilasta vapauduttuaan Peck on jatkanut työskentelyä Hollywoodissa; yksi hänen elokuvarooleistaan on ollut seksivalistusopettaja!
Hollywood loi uuden Amerikan
Juutalainen feministi Susan Sontag on kirjoittanut siitä, miksi juutalaiset ja homoaktivistit ovat yhdistäneet voimansa viihdeteollisuudessa:
"Juutalaiset ja homot ovat nykyaikaisen kaupunkikulttuurin kaksi luomisvoimaisinta vähemmistöä. He opettavat yleisölle herkkyyttä. Tunne-elämäämme hallitsee nyt juutalainen moralistinen vakavuus sekä homoseksuaalien estetiikka ja ironia."
1988 julkaistiin Hollywoodin historiaa käsitellyt teos An Empire of Their Own: How the Jews Invented Hollywood, joka voitti Los Angeles Timesin kirjallisuuspalkinnon.
Kirjan mukaan juutalaistaustaiset mogulit rakensivat Hollywoodin. Alkuaikojen tunnetuimpia nimiä olivat esimerkiksi Adolph Zukor, Carl Laemmle, Louis B. Mayer, Harry Warner, Samuel Goldwyn, William Fox ja Harry Cohn. Kun he saapuivat Amerikkaan, kukaan ei pitänyt heitä amerikkalaisina. Siksi heidän täytyi luoda uusi amerikkalainen kulttuuri, jossa he voisivat menestyä ja rikastua.
2008 juutalaistaustainen toimittaja Joel Stein kirjoitti LA Times –lehteen artikkelin "Who runs Hollywood? C'mon". Stein käy artikkelissa läpi Hollywoodin voimakkaimmat vaikuttajat ja studioiden omistajat. Nimilista on kuin Tel Avivin puhelinluettelosta. Stein yritti haastatella artikkeliaan varten ei-juutalaisia mediavaikuttajia, mutta nämä kieltäytyivät.
Steinin mukaan he todennäköisesti pelkäsivät suututtavansa juutalaiset, mikäli he puhuisivat Hollywoodin rotukysymyksestä julkisuudessa. Steinin mukaan Hollywood on 2000-luvulla "juutalaisempi kuin koskaan".
Lue myös:
Hollywood-saastaa: uudessa Tarantino-elokuvassa hekumoidaan valkoisen raiskaamisella
Juutalaista pedofiilia ei haluta vangita "holokaustin" vuoksi
Hollywoodismi: ideologia, joka tuhosi kulttuurimme